CFL Songs - with the Dal Richards Orchestra and Chorus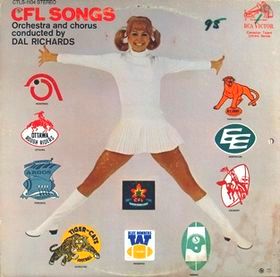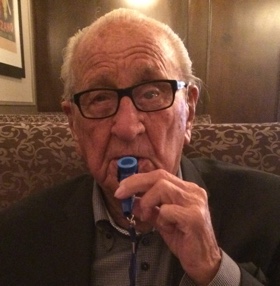 These songs were recorded by noted Canadian big band leader Dal Richards in 1968, as part of a record album called CFL Songs. (In 2014 we donated a copy of this album to the Canadian Football Hall of Fame where it rightly belongs.)
Dal is a Canadian jazz legend, who passed away on New Years Eve 2015 at the age of 97, and he led the BC Lions Band for many years. This album was initially recorded to give radio stations something they could play on game day, and many of its songs have become CFL standards. Some are old tunes with new words quickly assembled to complete the album, others (including "Go Argos Go", composed by Johnny Burt) are originals. Many are still heard in CFL stadiums to this day!
Trivia: One of the singers you hear on this 48-year-old album currently plays trumpet with Argonotes! Listen to this 2006 podcast for an interview with Vern Kennedy and some chitchat about this great album and its origins.
CFL Songs contains these selections -
Roar You Lions Roar -- BC Lions
Lyrics by Edmonton broadcaster Peggy Miller of radio station CJCA, to the tune of The Sunshine of Your Smile, a 1913 classic. Credited to "J. MacDonald - J. Hoffman".
The Eskimo Fight Song -- Edmonton Eskimos
Lyrics also by Edmonton broadcaster Peggy Miller of CJCA. Credited to "Shaefe - Allen - Robbins - Miller". In 1910, Mark Sheafe, Clarence Robbins and Thornton Allen wrote the Washington and Lee Swing, the fight song of Washington and Lee University, which many Canadians will recognize has also been borrowed by the University of Western Ontario.
Ye Men of Calgary -- Calgary Stampeders
We think this is an original tune - we're not sure. Credited to Roy Price.
On Roughriders -- Saskatchewan Roughriders
To the tune of "On Wisconsin". Credited to "C. Beck - W. T. Purdy", who wrote the University of Wisconsin song in 1909. The album credits the lyrics to "a CKCK staffer whose name cannot be recalled." (If anybody recalls this, please let us know!)
Bombers Victory March -- Winnipeg Blue Bombers
To the tune of "Illinois Loyalty". Credited to "T. H. Guild - J. Craig." Thacher Guild wrote the University of Illinois song Illinois Loyalty in 1906. The lyrics are by John Craig, who won a contest staged by radio station CJOB.
Go Argos Go -- Toronto Argonauts
Original Music and lyrics by Toronto composer Johnny Burt.
The Tiger-Cat Marching Song -- Hamilton Tiger-Cats
Original Music and lyrics by Jake Gaudaur, former Ticats president CFL commissioner, and Ralph Sazio, Ticat coach and GM. Often performed by George Houselander and the old Ticat Marching Band. Here's an article about the band's debut in 1956.
The Rough Riders March -- Ottawa Rough Riders
Whoops! We're informed that this is actually a Saskatchewan Roughriders song, titled "The Saskatchewan Roughrider March", written by Dan Crone in 1952. Mr.Crone passed away in September of 2015, in his 101st year.
Our friends in the Saskatchewan Roughrider Pep Band tell us that Dan took this song with him when he moved back to Ontario, which perhaps explains why it's an Ottawa song on this album.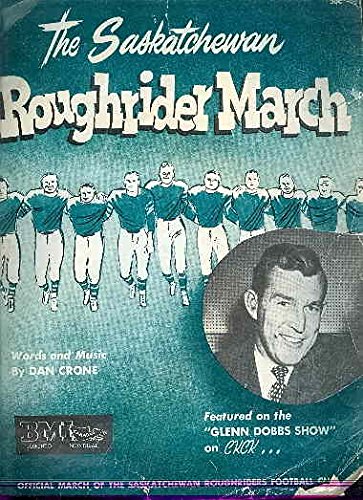 The Alouette March -- Montreal Alouettes
Origin unclear. Credited to "Evans - Borelli".
And finally we have a few originals on the general theme of Football (i.e., that it is Fun) and the Grey Cup.
The Day of the Grey Cup
Music by Johnny Burt, Lyrics by Jill Loring. We heard from Jill's daughter Carrie during the 100th Grey Cup festivities and managed to persuade a radio station or two to play this one.
The Grey Cup March
Credited to "Workman - Evans".
Football is Fun
Credited to Lou Snider.
And yes, yes it is.
Check out the back cover for some more info too.